Follow Dana Land on Facebook
"All the Cats Join In" CD or Mp3
CLICK HERE TO BUY "ALL THE CATS JOIN IN" CD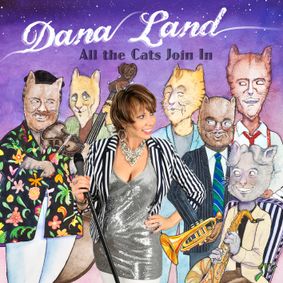 "All The Cats Join In" Liner Notes
By Andrew Gilbert

As titles go, "All the Cats Join In" couldn't be more apt. Consider it a personal invitation from Dana Land, an artist whose generosity extends well beyond the stellar cast of players who join her in the studio and on the bandstand. While she recorded a fine album several years ago as a calling card for clubs and festivals, "Cats" is essentially Land's debut release, a project with which she embraces her audience with a pleasingly sunny sound and a consistently fresh take on well-chosen songs. It's the work of a self-possessed artist who is comfortable in her own skin and determined to share the pleasure she finds in music with her listeners.

As Land hails from a family that settled in Hawaii about a century and a half ago, you could say that the Sonoma, Calif.-based singer comes by her welcoming vibe as a birthright. From the playful and irrepressibly swinging opening track, the Shermans' classic "I Wanna Be Like You," from the 1967 animated Disney film "The Jungle Book," Land can barely contain her infectious sense of joy. By the second tune, an almost ecstatic rendition of "Oh, What a Beautiful Morning," she's not even trying to rein in her high spirits.

That's to say that Land is a stranger to the dark side. Her interpretation of "Eleanor Rigby" plumbs Lennon and McCartney's unblinking look at loneliness and despair. But where some jazz singers build a repertoire upon anguished torch songs, righteous blues and lamenting tales of woe, Land seems drawn to material exploring the lighter side of love and desire (lighter as in Milan Kundera's "The Unbearable Lightness of Being," rather than lightweight—Land takes her musical pleasures seriously). It's a sensibility that finds expression in sources beyond American Songbook standards, in novelty numbers, R&B and relatively contemporary pop songs.

She gives "Princess Pupule Has Plenty Papaya" a playfully lascivious, takin'-my-sweet-time reading, while tweaking the hoary, double-entendre laden Hapa Haole number by opening with a verse from Rosemary Clooney's career-making 1951 hit "Come On-a My House." Recorded in Hawaii, the piece features bassist John Kolivas's Honolulu Jazz Quartet, a highly cohesive combo that should be far better known on the mainland. The quartet also provides appropriately blues-drenched accompaniment on Percy Mayfield's "Lost Mind," a tune that's less a cautionary tale than a celebration of losing one's head in love.

When Land decides to tackle a well-worn standard, she brings something new to the game. Setting "My Funny Valentine" to a gentle funk groove takes the sentimental Rodgers and Hart gem to a different place, while Scotty Barnhart's lovely trumpet solo reconnects the song with its definitive interpreters Miles Davis and Chet Baker. Barnhart's horn also plays a key role on a different kind of standard, Van Morrison's "Moon Dance," a piece that Land turns into an effective jazz vehicle. More precisely, it's an arrangement she created in collaboration with her working band featuring piano ace Jonathan Alford, veteran bassist Chris Amberger, and drum great Akira Tana, a superlative accompanist whose resume includes stints with numerous jazz legends, from James Moody and Zoot Sims to Milt Jackson and J.J. Johnson.
Backed by the same rhythm section on seven of the albums 11 tracks, Land is clearly buoyed by their sympathetic, gracefully attentive support. Reed expert Jeff Sanford also serves as an expressive foil for Land throughout the album. A ubiquitous presence on the Bay Area jazz scene probably best known for his popular Cartoon Jazz project focusing on the music of Raymond Scott, Sanford makes each solo count, from his growling tenor work on "I Wanna Be Like You" to his insinuating clarinet on "Whatever Lola Wants, Lola Gets."

On the deliciously seductive version of "Lola" and insouciantly swinging arrangement of "Exactly Like You," Land is joined by another world-class rhythm section featuring Tana, bass master John Wiitala and pianist Larry Vuckovich, a brilliant player who has accompanied many of jazz's finest singers. With Land scatting over some hot violin work by Carlos Reyes on "Exactly," she leaves you craving another straight ahead excursion. Instead, she ups the ante by closing the album with a torrid version of "Fever" recorded live. It's a fitting conclusion to a session introducing an impressive singer who walked a winding path before setting out to follow her musical muse. Now that she's found her calling, Land has given notice that everyone's welcome to join her, and the cats are clearly climbing on board.
Buy now at CDBaby